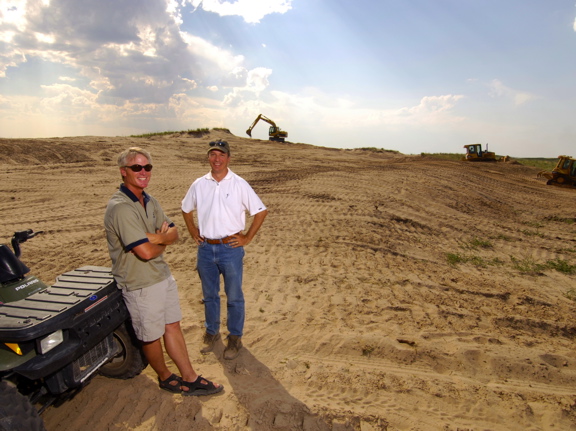 Each client has their own definition of success for their project. Those goals are an integral part of the design, just like a feature of the ground. They help to make each course different than the last.
It's not always about building a top-100 course — which is good, because there are only so many of those. The Colorado Golf Association wanted to remake their course to be the best $40 golf course it could be, but also a venue that could host tournaments at all levels of play. Jim Crane wanted to bring the Houston Open back downtown. Lew Thompson wanted to get visitors to Forest Dunes  to stay overnight. The management at Ballyneal wondered what was the most fun they could create for members with seven more acres of turf. Different goals yielded interesting results.
But when there is the chance to build a top-100 course, I don't waste the opportunity.  Most recently, Rock Creek Cattle Company and Tara Iti joined the club.
Jim Crane
Houston, TX – Memorial Park
Bill Foley
Santa Barbara, CA – Rock Creek
Jon Gahan
Melbourne, AUS – Gunnamatta Course at The National
Ric Kayne
Pacific Palisades, CA – Tara Iti
Mike Keiser
Chicago, IL – Pacific Dunes and Old Macdonald
Ted Lennon
Los Angeles, CA – Stone Eagle
Rich Mack
MN – Streamsong
Ed Mate
Colorado Golf Association – CommonGround
Andre Mourgue d'Algue
Bordeaux, FRANCE – St. Emilion
Michael Pascucci
NY – Sebonack
Julian Robertson
NYC – Cape Kidnappers
Jerry Sarvadi, Gullane
SCOTLAND – The Renaissance Club
Richard Sattler
Bridport, Tasmania – Barnbougle Dunes
Jeff Shearer
Chicago, IL – Lost Dunes
Lew Thompson
AR – The Loop at Forest Dunes